It's Time to Make a Splash: Water-Friendly Meetings
Need a Surefire Way to Help Attendees Connect? Just Add Water
From the dawn of time, humans have been drawn to gather together near water. Today, our instinct to meet near water isn't about survival—but the sense of togetherness that comes from sharing companionship and connection at one of Earth's most bountiful elements means that we still flock to lakeside retreats, ocean beaches, and poolside parties.
That makes water a meeting planner's secret weapon. At a time when event attendance is still struggling to return to pre-pandemic levels, hosting a meeting at a venue known for its water features can be an added draw for delegates.
But it's not just about boosting attendance. Being in "blue space" brings health and social benefits that are particularly conducive to meeting planners' goals, including reduced stress and deeper social interactions.
Gaylord Hotels and Resorts in particular are known for their water features, but the entire Marriott Bonvoy portfolio has a wealth of aquatic delights for planners to choose from. Whether your meeting is best suited for a tranquil lakeside retreat, boisterous water park fun after-hours, or beachfront access for post-session unwinding, bringing a little H2O to your event can strengthen your meeting's mission—and add a lot of joy.
Indoor-Outdoor Gathering Spots: Four Beachside Properties
Intimate Meetings, Massive Galas, and Everything In Between: Five Pool-Forward Properties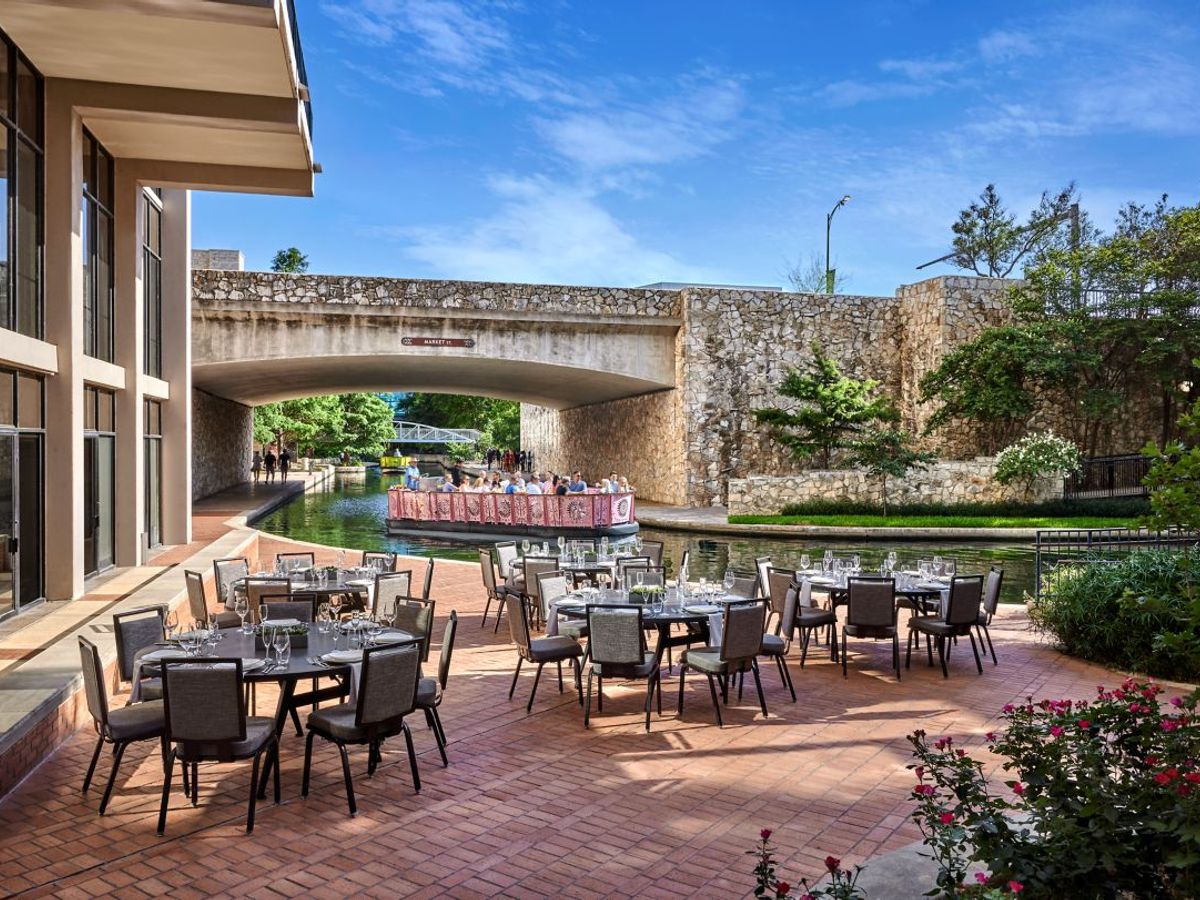 Riverside Hustle, Lake Getaways, Boating Delights: Three Waterfront Gems
● San Antonio Marriott Riverwalk: Located across from the convention center and right on San Antonio's world-renowned River Walk, this hotel gives delegates the chance to relax on the riverside Oak Tree Terrace space before ambling to the Alamo Ballroom or any of the other 13 event rooms. (And for those who prefer their water to not be a spectator sport, the indoor pool awaits.)
● The Ritz-Carlton Reynolds, Lake Oconee: An Eden of luxury meeting space offering bird-watching and other lake recreational activities, this Georgia property splits its 58,000 square feet of meeting space between 24,000 square feet of indoor rooms and the great outdoors. Executives, incentive awardees, board members—all will return from this tranquil lakeside retreat rejuvenated.
● The Westin Cape Coral Resort at Marina Village: Nestled amid 400 miles of navigable canals and waterways, this resort space offers opportunity for attendees to gather outdoors. Not that indoor spaces are ignored: Over 11 event spaces and nearly 30,000 square feet of meeting spaces let attendees take the inspiration that struck them on the canals and turn it into action.
Please note the following brands do not participate in Marriott Bonvoy Events: Marriott Executive Apartments®, Residence Inn®, TownePlace Suites®, Design Hotels™, Bulgari Hotels & Resorts, Vistana properties and Homes & Villas by Marriott Bonvoy.